Totally Accurate Battlegrounds Server Hosting
Amazing Reasons To Choose Our Totally Accurate Battlegrounds Server Hosting
A Little About Totally Accurate Battlegrounds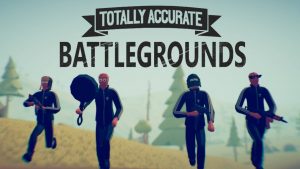 Totally Accurate Battlegrounds
The April Fools joke that became a popular game that is getting streamed by bit name on twitch.
Jumping on the Battle Royal Genre like every other game nowadays this game is quite unique as it is a parody like game where everything is a joke from the movement which is ragdoll physics to the gunplay where sniper shots send you flying.
Totally Accurate Battlegrounds is a very fun and addictive game with lots of replayability, so why not get your own server and 99 of your closest friends and fight to survive and be the last man (or Woman) standing.
Check Out Our Control Panel Video

Frequently Asked Pre-Sales Questions
Instant Automated Setup On All Totally Accurate Battlegrounds Servers
Order now. 30% summer discount will be applied automatically.