Most Popular Game Hosting
Here is a list of the game servers we host.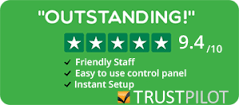 BlackBoxServers.net is the Official Server Partner for 7 Days to Die for a reason, Get instant access to a top performing quality 7DTD server now.Full Mod Support and Server Customization. Quick Updates + server tracker and banner generator.
Your Server Your Rules,Instant automated server setup, be playing in minutes,Cross Travel and procedural map generation both supported,Easy to use control panel for ease of use, even for novice users in addition to Workshop Mod Installer and Update Feature
Join over 2000 happy BlackBox customers today.Our Conan Exiles Server Hosting  offers a 24/7 online dedicated 'Conan Exiles' server that can be upgraded and downgraded at will depending on your community size and growth.
Welcome to BlackBoxServers Flagship Hosting. Enjoy full control over your A3 Exile server with  full access to your database, to download, edit tables and events. Make backups and restore them.
BlackBoxServers.Net is the Official Server Partner for Life is Feudal publisher and developer BitBox Games and the Number One Provider of choice to over 90 % of community hosted servers. Instant Server Setup
Main Partner and Server Provider for Empyrion Community Server Hosting. Enjoy Full Server Customization with
Full FTP Access
Easy to use control panel
Hosting a Rust Server never been easier. Enjoy powerful control panel with one click install Oxide mods and Plugins. Offsite free World Backup and Restore, Elite Server Performance and Optimization for best gaming experience.
Be he king and rule your lands with BlackBoxServers.net Community Server Today. enjoy Powerful Control Panel and server customization and mod support with easy few configuration of drop down menus.
Unturned is a sandbox game in the multiplayer survival genre. Survive the zombie infestation with your friends! Over the course of a typical adventure you'll fortify a base, scavenge for supplies, live off the land and negotiate with other players.